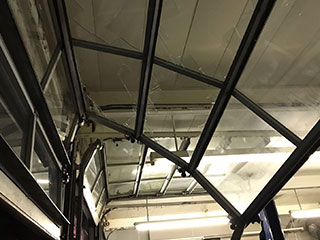 Our team can handle any problem you may be experiencing, from faulty and broken springs to dented door panels. A lot of things can go wrong with your automatic system, but luckily for you, our technicians are experts at handling all of them.
Expert Track Repair
Sometimes the squeaking noise that your door makes while its moving isn't because of the springs or the rollers. Bent tracks can be causing this issue, and if the situation isn't addressed in time it could cause a roller (or more than one) to pop out. This will cause your garage door to get off track, which will force it to get stuck and may seriously endanger you and your family members. Our repair specialist can straighten out any dents and bent sections, and even replace the tracks completely if it becomes necessary.
Roller Repairs And Replacements
The more smoothly your door moves, the less your opener has to strain. A set of clean, free-moving rollers is essential for reducing wear and tear on your motor unit. Unfortunately, these components can become worn and even corroded over time. If your rollers aren't in great shape, our team will be able to help out by replacing them. We'll quickly remove each unit from your door and install a new set in their place. We'll then lubricate them and test them to ensure the door can open and close smoothly and silently.
Professional Spring Replacement
Because your door relies on this components to support and counterbalance its weight, they are under a lot of stress on a regular basis, and will eventually break if they aren't replaced in time. Performing this type of job can be dangerous, so it's always better to let our technicians handle it. We'll quickly replace your springs and make sure the tension of the new unites is properly adjusted and that your door is completely balanced.
Don't Delay - Contact Us Today
Our team at Garage Door Repair Canyon Country is always ready to solve whatever problem you may find yourself facing. We can expertly fix anything from broken cables to opener motor gears, and we always respond as quickly as possible. Feel free to look at the rest of our website to see what else we can do for you.
We also offer the following:

Garage Door Tune Up Services

New Opener Remote Controls

Oil Tempered Torsion Springs

Garage Door Receiver Repair