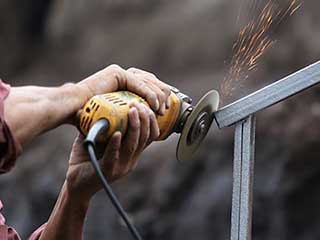 Our team has all the experience needed to repair your automatic gate if it's acting up - whatever the model or style of gate, we'll be able to solve the problem.
FAAC Gate Openers & More
FAAC is a popular choice when it comes to automated systems for gates - we can install a new FAAC opener for you or repair your existing model. We've got experience working with other openers too and can help residential and commercial properties alike.
Only Trusted Brands Like LiftMaster
If you're in need of a replacement part, we can source it for you and look after the installation. We only work with trusted brands like LiftMaster so you can be sure that your new component is designed to last.
Gate Accessories & Add-Ons
We take accessories and security add-ons seriously. Technology is developing all the time and we know you'll want to ensure your property is kept as safe as possible. We'll go out of our way to identify any unique ways we can make the installation of your system more functional than it is already.
Motor Replacement & Troubleshooting
Our experience of handling different motors comes in very useful if your opener is acting up. We'll be able to identify the cause of any underlying problems and replace your motor if it is failing. We can also be with you right through the maintenance cycle - you'll feel confident your opener will continue to function into the future.
Fixing Gate Keypads
We are called out fairly regularly for keypad related problems. Whether you're in need of an upgraded system or require your keypad to be reprogrammed, our team can handle this for you with minimum hassle.
If your gate has broken down, is acting up, or just needs some professional TLC, we can help. Give us a call to schedule a meeting or use our online scheduling system to arrange an appointment time that's convenient for you!
In addition, count on us for:

Phone Entry Systems

Gate Opener Replacement

Gate Exit Sensor Installation

Electric Gate Service